LGBT Athletes making history at 2018 Winter Olympics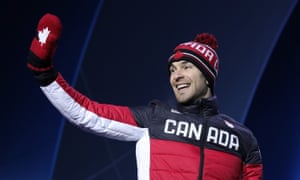 Pyeongchang Olympics have seen athletes being more open and public about their sexuality than ever before with Canada's Eric Radford becoming the first out Olympian to claim gold at Winter games.
Radford clinched gold in the team figure skating event on Monday, alongside his skating partner Meagan Duhamel. He posed afterwards for a photo with another out medallist from the event – Adam Rippon of the USA, who took BRONZE.
Radford came out in December 2014 after winning silver in the previously Winter Olympics in Sochi.
Freestyle skier Gus Kenworthy had set the tone for an open LGBT Olympics on the open LGBT Olympics on the opening day , with a Twitter post picturing him with Rippon starting" we're here. We're queer. Get used to it."
Before the games Kenworthy was a vocal critic of the decision to send vice- president Mike Pence as head of the US delegation. He said on the Ellen DeGeneres show. "It just seems such a strange choice for me. To have someone leading the delegation that's directly attacked the LGBT community. It just seems like a bad fit."
- Saumoy Ghosal